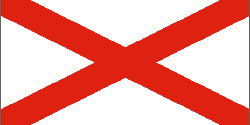 Alabama
"Yellowhammer State"
Motto

Audemus jura nostra defendere (We dare defend our rights)

Capitol

Name Origin

May come from Choctaw meaning "thicket-clearers" or "vegetation-gatherers"

Statehood Date

Dec. 14, 1819 (22nd)
Cities in Alabama
NOTE: Not all cities are displayed. Please narrow your selection by using the search above.
Official Symbols
A state's official symbols represent the composition and culture of the land and people who live and have lived here. Below are the symbols of Alabama along with the year they became official.
| | |
| --- | --- |
| Flower | Camellia (1959) |
| Bird | Yellowhammer (1927) |
| Song | "Alabama" (1931) |
| Tree | Southern Longleaf Pine (1949, 1997) |
| Salt Water Fish | Fighting Tarpon (1955) |
| Fresh Water Fish | Largemouth Bass (1975) |
| Horse | Racking Horse (1975) |
| Mineral | Hematite (1967) |
| Rock | Marble (1969) |
| Game Bird | Wild Turkey (1980) |
| Dance | Square Dance (1981) |
| Nut | Pecan (1982) |
| Fossil | Species Basilosaurus Cetoides (1984) |
| Official Mascot And Butterfly | Eastern Tiger Swallowtail (1989) |
| Insect | Monarch Butterfly (1989) |
| Reptile | Alabama Red-Bellied Turtle (1990) |
| Gemstone | Star Blue Quartz (1990) |
| Shell | Scaphella Junonia Johnstoneae (1990) |
Demographics
Population Density

87.6 people per square mile
Geography and Weather
Land Area

50,744 sq mi. (131,427 sq km)

Lowest Elevation

0 ft (0 m)

Average Elevation

500 ft (152.4 m)

Highest Temperature Recorded

112°F (44°C) on September 5, 1925

Lowest Temperature Recorded

–27°F (–33°C) on January 30, 1966